THINGS TO DO IN SEATTLE: GEORGETOWN
Georgetown is arguably Seattle's oldest neighborhood.

Over the years the neighborhood has transformed from a warehouse filled industrialized area to a chic, artsy place filled with great restaurants, cool living spaces, and breweries.
Where to eat:
As a foodie, I am always in search of good food and wanted to create guides that highlight a few of my favorite food spots in the city.
If you are searching for an area that has a perfect blend of ambiance and good food, Georgetown is an area you should check out. Below are a few of my favorite spots.
Start off your day at Brother Joe:
One of my favorite foodie partners in crime took me this spot on a work meeting a few months ago. I have been obsessed ever since. My favorite things to get are the Fluffy cakes and the steak hash when I want something more savory.
If you like spicy food and Chicken and Waffles for breakfast, Sister and Brother is the spot for you.
Got the Nashville wings my first time there and it lived up to its name. Also, get the fried cotija corn. The chicken and waffles are only available on the weekends FYI.
Enjoy a hearty lunch or dinner with an option to sit outside at Fonde La Catrina(Mexican Cusine), Via Tubulini-(Italian) or Ciudad(grilled meats from across the globe).
If you like a more diner and laid back vibe, you should also check out 9lb Hammer or Slim's Last Chance .
If you have some room for dessert, finish your mini foodie tour at Seattle Freeze. It's an ice cream and doughnut shop that specializes in soft served style ice cream and raised doughnuts.
Where to shop:

This is not probably the shopping you have in mind but I always enjoy record stores as they are time-capsules and they have cool vinyls that remind of my dad's old collections.
The Georgetown Trailer Park Mall, although only open on weekends, is a cute area to check out local independent artists and collectors.
Where to take your Instagram Pictures: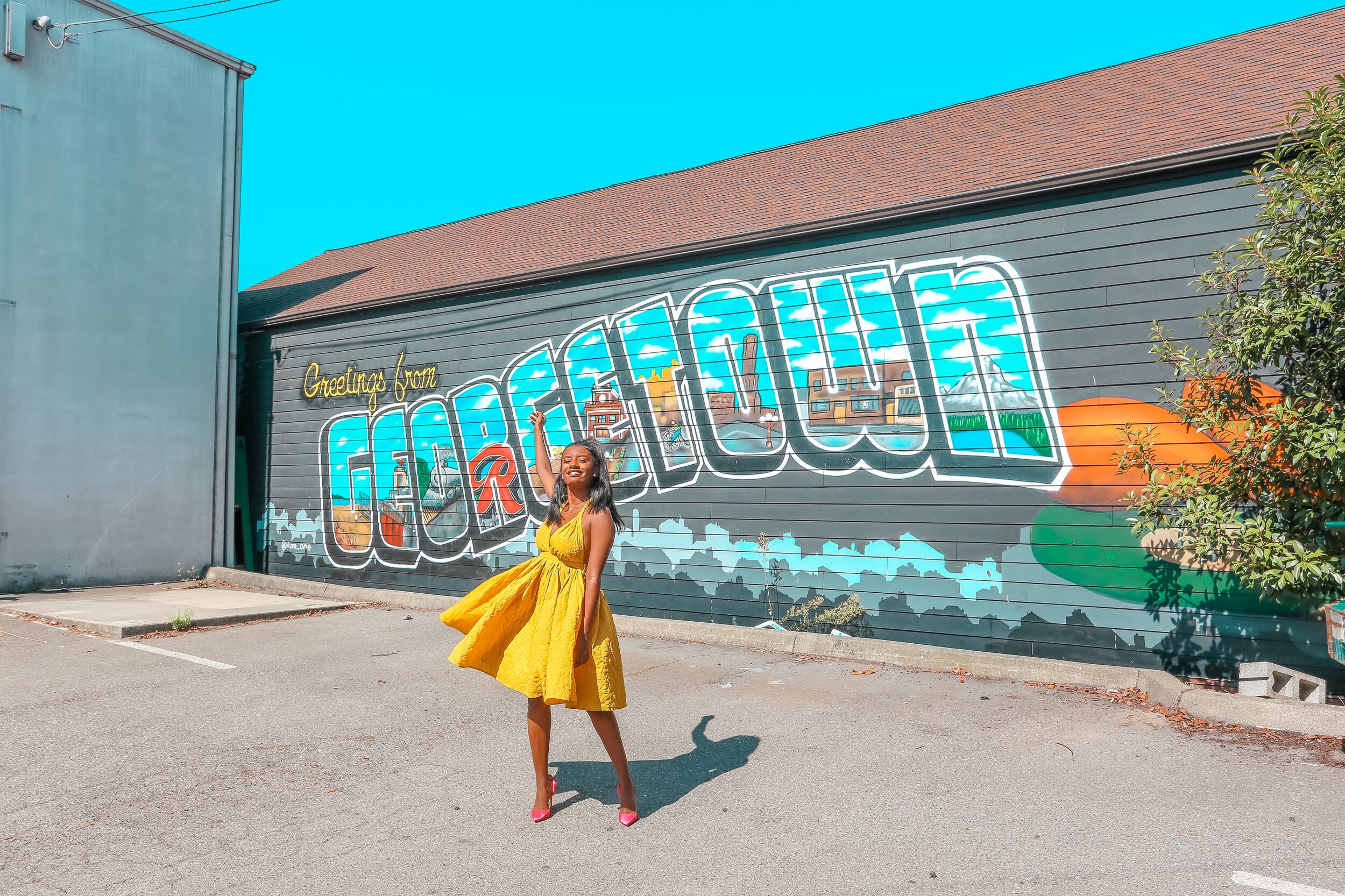 5955 Airport Way S, Seattle, WA 98108

Aside from all the shots you will be taking at each of the places listed above. You can take your George Town pic at this mural.
Also, check out Oxbow park to take some pictures with the landmark Hat 'n' Boots. Originally a part of a western-themed gas station in the '50s, the landmark was moved to Oxbow Park in the early 2000s by the city of Seattle.